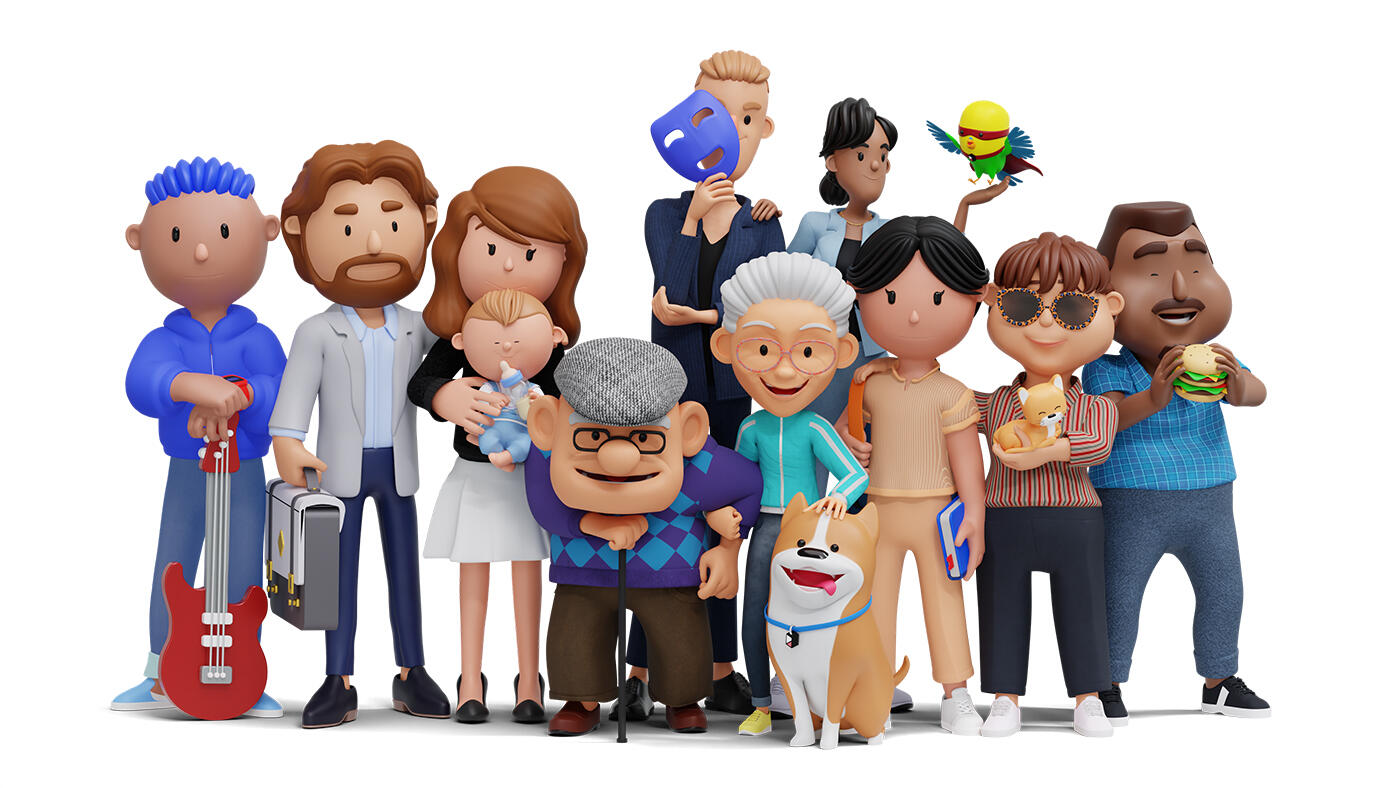 CHARACTERZ
🌎 Biggest 3D illustrations library in the world
🏗️ 10,000,000+ combinations of 3D characters
Money-back guarantee. See the sample
Fully compatible with most common designer tools:

10,000,000+ Combinations of 3D avatars
(9,000+ PNGs rendered out of the box)
33 poses included
In Blender you can do more combinations of poses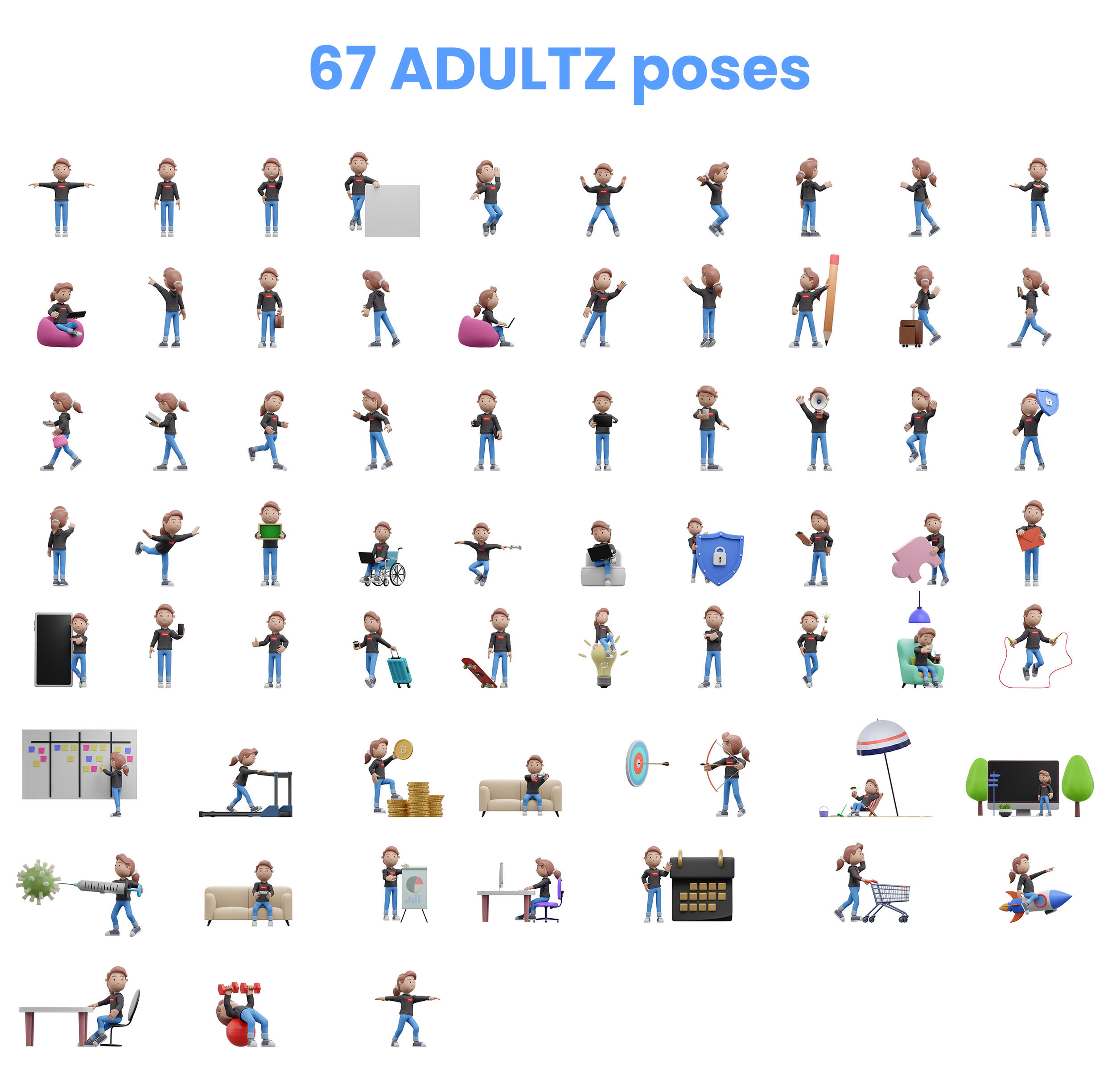 Super male and female included 💪
Other things you will love ❤️
Blender Generator of 3D characters
We created a Blender Generator for even easier customization. You don't need to know Blender at all. It's that easy ❤️

See what is inside
Are you not a master of Blender?
No problemo! 🤔
We created a short tutorial for beginners which will give you the opportunity to customize avatars even more. Believe us, you can do it.

By the way; Blender is free to use.
Take it further 🚀
Combine different characters in your favorite design tools. It looks good with the 2D world, too! You can achieve great results by combining all of our libraries.

See what is inside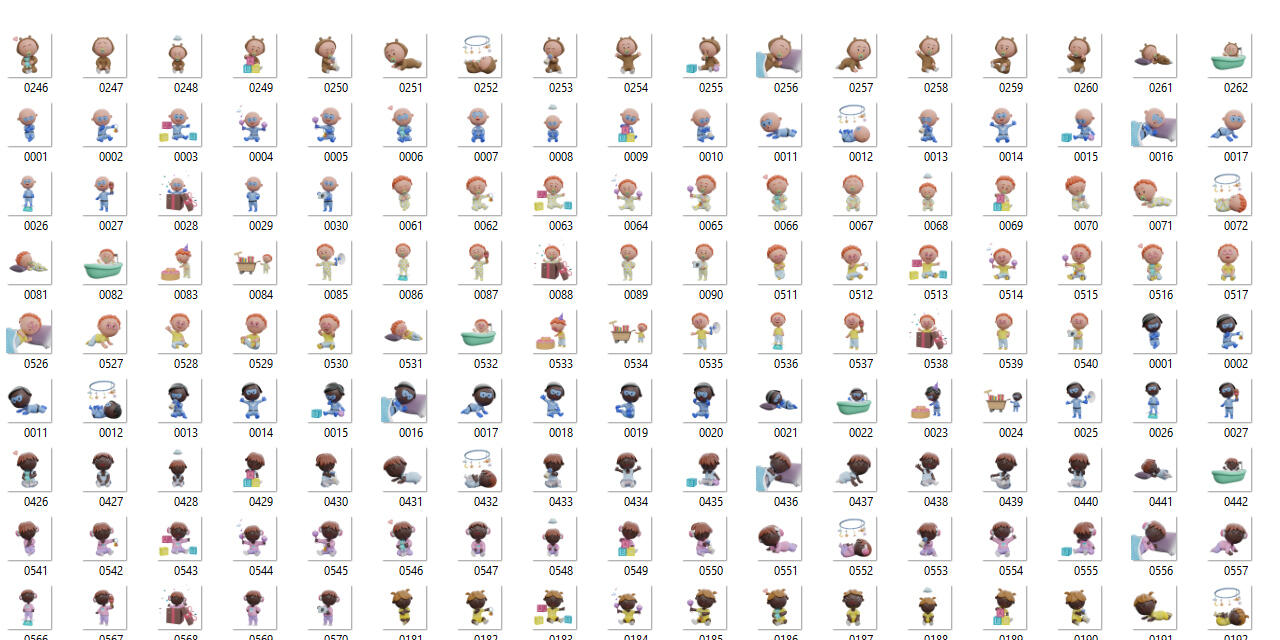 PETZ 🐱🐶
Amazing addition to the 3D characters
Fully rigged (body + face) 3D dog & catDifferent posesSuper 3D dog & cat included
More information about PETZ
Showcase
Here are some examples of library usage.
But, don't limit yourself 🚀
What others say
"Instant buy! Characterz is the best library that I found.
The library has differentiated our product among competitors."
---
Heneman Laurent
Founder of Quizwer
---
"The quality of the icons and characters helps elevate and bring character to a design instantly. As they're really easy to customise, it makes them usable in a wide variety of projects."
---
Chris Key
Head of Strategy Rubber Ducker
---
"This is so cool! the 3D design is very unique with a variety of different choices making the design on my project even cooler. Only with this 3D Design, I can use it in various of my projects. The Design is very easy to use and the name of each design is neatly organized. This really helps me in working on my project."
---
Kevin Al-Rizal
UX/UI Designer
---
Rating on Gumroad:

---
People in these companies use our libraries:

CHARACTERZ
Biggest 3D illustrations library in the world.
10,000,000+ combinations of 3D characters.
Fully compatible with most common designer tools:

Money-back guarantee. See the sample
PETZ
Fully rigged cute 3D dog and cat in different poses.
Super PETZ included
Fully compatible with most common designer tools:
Or see our other libraries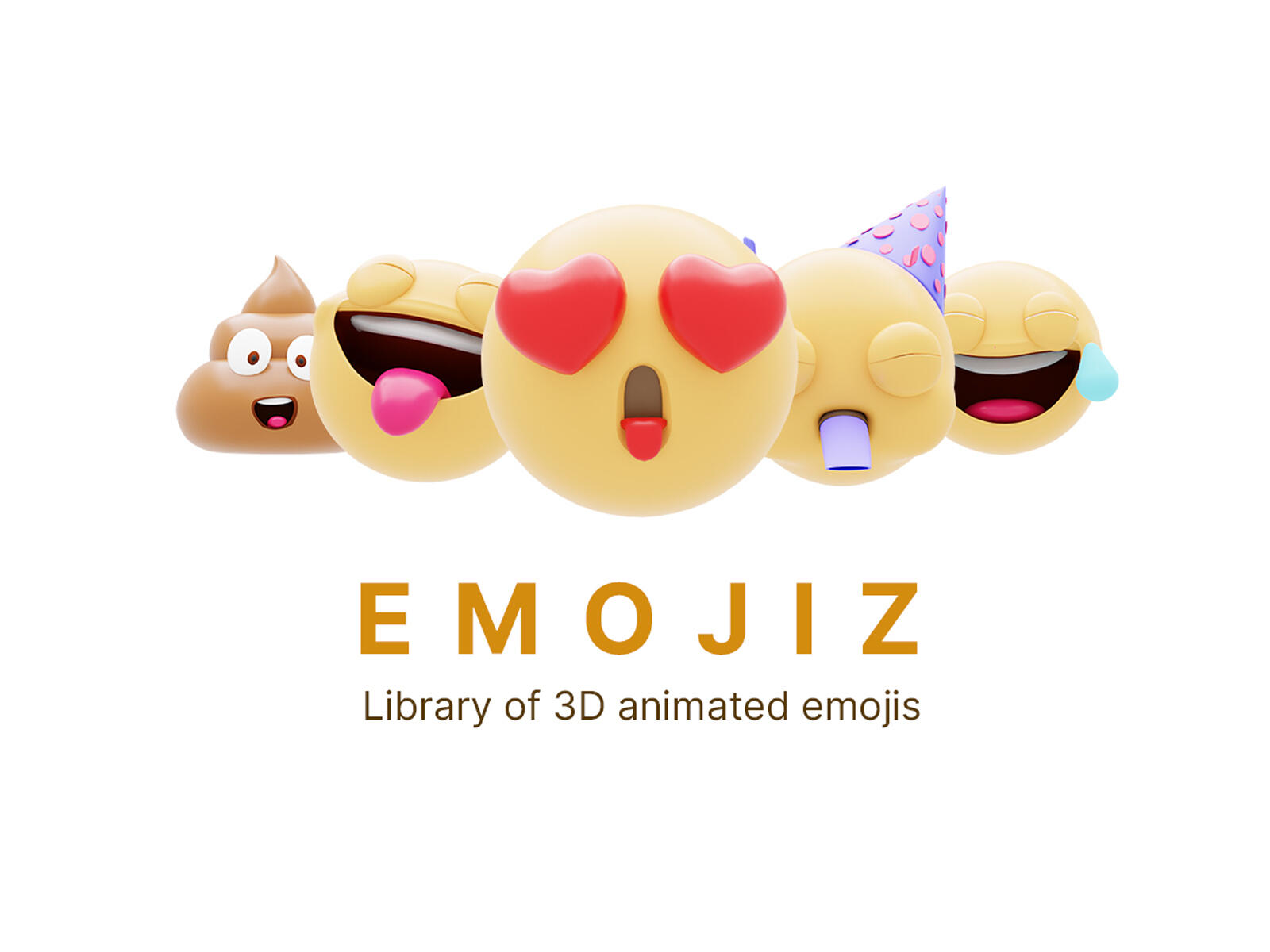 High-quality animated emojis for any occasion.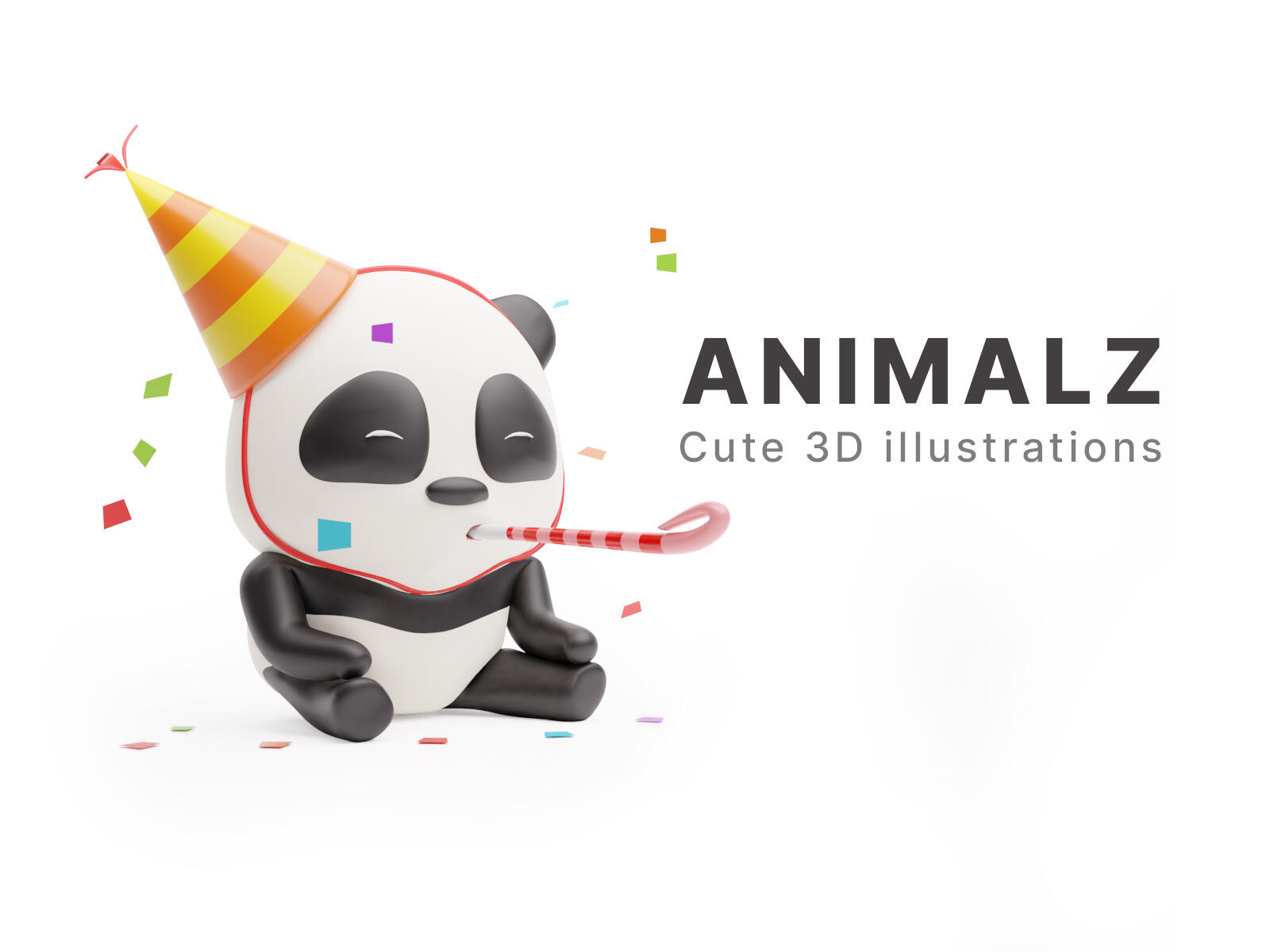 ANIMALZ - Library of 3D animals
Cute animals which will bring to your designs.
ICONZ - 3D library of 85 icons
85 various 3D icons, 10+ new materials, source files included.
1,675 PNGs rendered out of the box (85 icons - 5 Angles -
6 Combinations of Materials)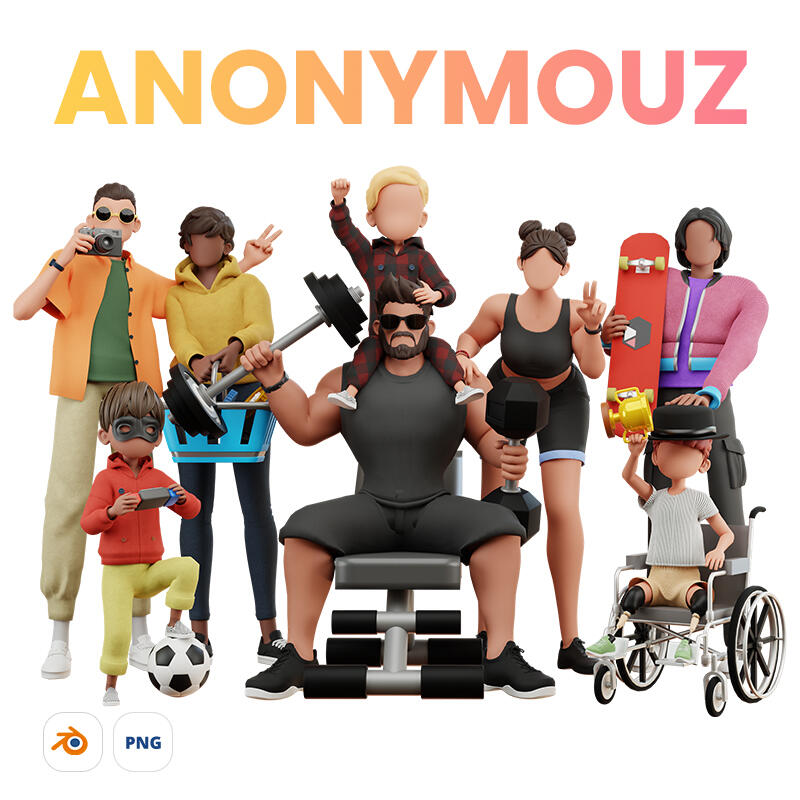 HANDZ - Library of 3D hand gestures
Free library of 320 combinations of hand gestures.
12 hands gesture with 9 color skins and 3 variations of sleeves.
Source files included.
Do you like what we do?
Check our other libraries

Changelog